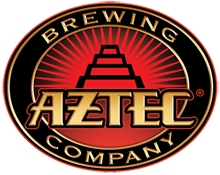 We are Aztec Brewing Company. A little bit of nostalgia and a little bit of new life. Although we are working to revive an oldstyle brand, we are also working hard to be conscious of the importance of being green and being natural.
We use choice malts, high quality hops, real fruit. It costs more but you'll agree it's worth it. We want you to be able to savor the flavor before you taste it.
Our beers range in flavors mild to strong. The alcohol levels vary too. From a good kick back beer, to a beer that will kick back. Give us a try. Aztec Beer from Aztec Brewing Company.
View Larger Map
2330 La Mirada Dr. Suite 300, Vista, CA 92081
800-706-6324 • 760-598-7720
Tasting Hours
Monday - Friday: 3 - 10 PM
Saturday: 1 - 10 PM • Sunday: 1 - 7 PM